The combination of milk and espresso coffee has given rise in Italy and around the world to drinks that have become part of our daily lives. We usually enjoy them at the bar, however, with the right equipment, we can prepare them at home, turning milk into a soft froth, perfect to create our own specialities.
Let's take a look at the most popular Italian and international espresso coffee-based drinks in further detail. Caffè macchiato originated in Italian bars with the aim of 'distinguishing' the beverage ordered by customers asking for a little milk in their espresso coffee by adding a drop of 'milk cream'. In the Italian tradition, a cappuccino is the perfect drink when having breakfast at the bar, and it is not usually consumed at other times during the day. However, outside Italy it is considered a mouth-watering dessert to be savoured at any time of the day.
Caffe latte was created for those who prefer to tone down the intensity of espresso coffee as it contains more liquid milk and less froth than a cappuccino does. The flat white, originating in Australia, is a smaller caffe latte, made with a double shot of coffee and with less froth than a cappuccino.
Finally, there is the cortado: this originated in Spain and is very popular at cafés in Madrid. It is served in a glass and consists of a longer espresso coffee than the Italian one (about 30 ml) with an equal amount of whipped milk.
The secret of these drinks lies in the froth: it must have the consistency and smoothness of a velvety, compact milk cream and not have any macroscopic air bubbles on the surface.
To make it at home, it is important to have either a milk frother or a steam wand.
In the case of the latter, fill a jug or cup with milk at refrigerator temperature (approx. 5°C). Insert the steam wand about one centimetre below the surface of the milk and activate the steam function. The jug should be tilted to create a slight swirl to incorporate air and create a perfect froth.
It is important to use fresh pasteurised or high-quality fresh pasteurised milk.
The closer the milk is to its expiry date, the less stable the bubbles created with the froth will be, i.e. they will burst immediately after preparation.
Once a nice froth has been obtained, it is possible to try decorating our cappuccino using latte art, creating the classic apple, heart and leaf shapes. In order to achieve this, you need a milk jug with a prominent spout and a little manual skill. An easier method of decoration is to use stencils and sprinkle bitter cocoa on top of the froth.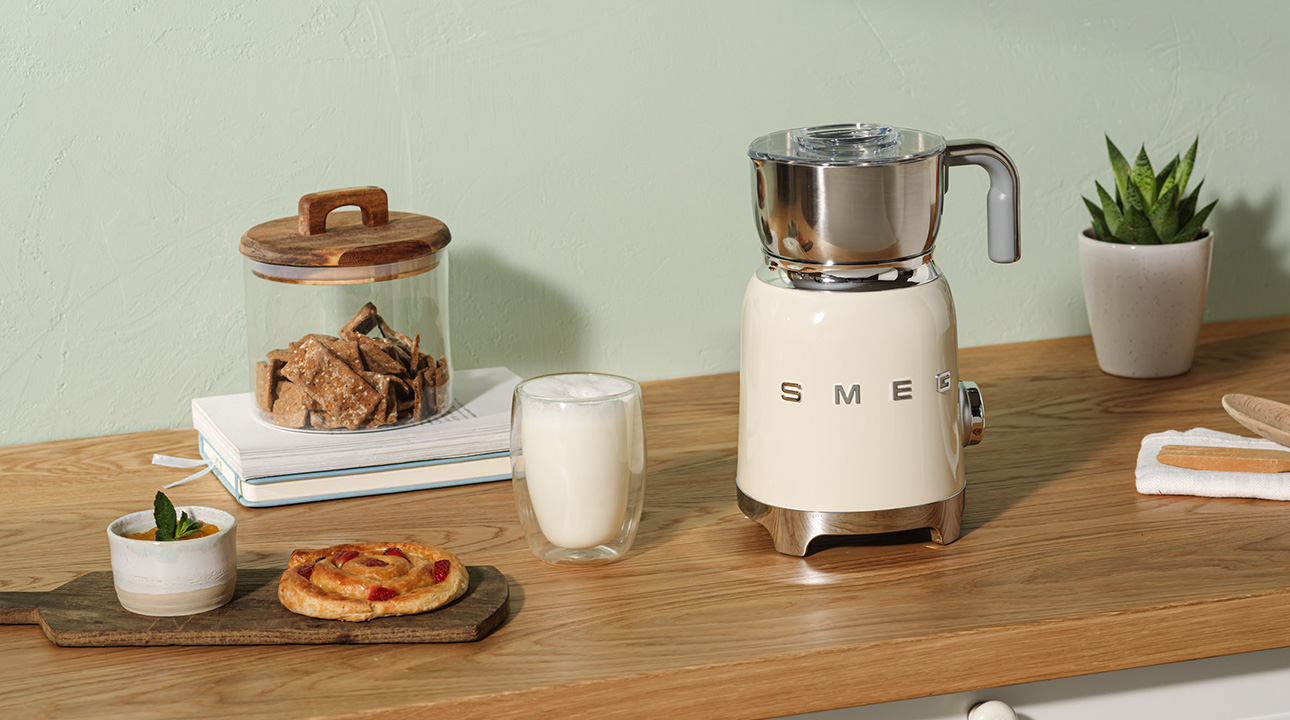 The perfect froth for classic coffee-based drinks
The MF11 milk frother makes every milk preparation easy and professional, resulting in a perfect froth for both hot and cold milk - just like having a café in the comfort of your own home.
Enjoy the Italian bar experience in the comfort of your own home
EGF03 enables you to customise every step of your coffee preparation, in a professional way, and you can also prepare milk-based drinks using the professional steam wand.