The collaboration between Smeg and deepdesign® owned by Matteo Bazzicalupo and Raffaella Mangiarotti began in 2011 and has continued with various projects, with the aim of defining the DNA and language of small household appliances. The aim is to create something consistent, durable, and expandable.
This is how the award-winning aesthetic line ​​SMEG 50s style was created, consisting initially of 4 references: the kneading machine, the toaster, the blender and the kettle. A highly distinctive, innovative language was developed around these, recognisable in every single item of the product line, which today has been expanded to around 20 products and also includes coffee machines, coffee grinders and milk frothers.
"The idea behind the design of the initial abacus, had the potential, it was sufficiently robust and flexible to be able to determine the expansion of the line and therefore create an extended family."
Matteo Bazzicalupo
The​​50s style line recalls fond memories, the soft shapes of yesteryear re-interpreted in a contemporary key. These small household appliances are rooted in modernity through the use of the super ellipse, the geometric shape devised by the Danish scientist Piet Hein, who was also a mathematician, an inventor, a writer, and a poet.
"This is a fluid form which resembles a square yet has the fluidity of a circle, therefore it conveys calmness and tranquillity."
Raffaella Mangiarotti
These shapes are extremely distinctive and expressive, both in terms of their roundness as well as the recurrence of certain details such as the metal foot. The colours enhance the emotional aspect as they are typical Smeg colours: a rich, vibrant colour range, accentuated by chrome metal.
"We don't refer to it as being vintage as we believe that each period should have its own particular form of expression."
Raffaella Mangiarotti
​​
​​​Further new Smeg small household appliances resulting from the collaboration between Smeg and deepdesign® can be recognised by their sculptural volumes characterised by clean-cut surfaces. Brushed metal becomes a recurring aesthetic code, its interfaces are richer, designed to carry out more complex functions, typical of coffee machines yet nevertheless easy to use, since man is at the centre of the design process.
The Lavazza A Modo Mio Smeg coffee machine was also created by the deepdesign® studio, working together with an extended team from Smeg and Lavazza, combining Lavazza excellence and tradition with Smeg design and technology.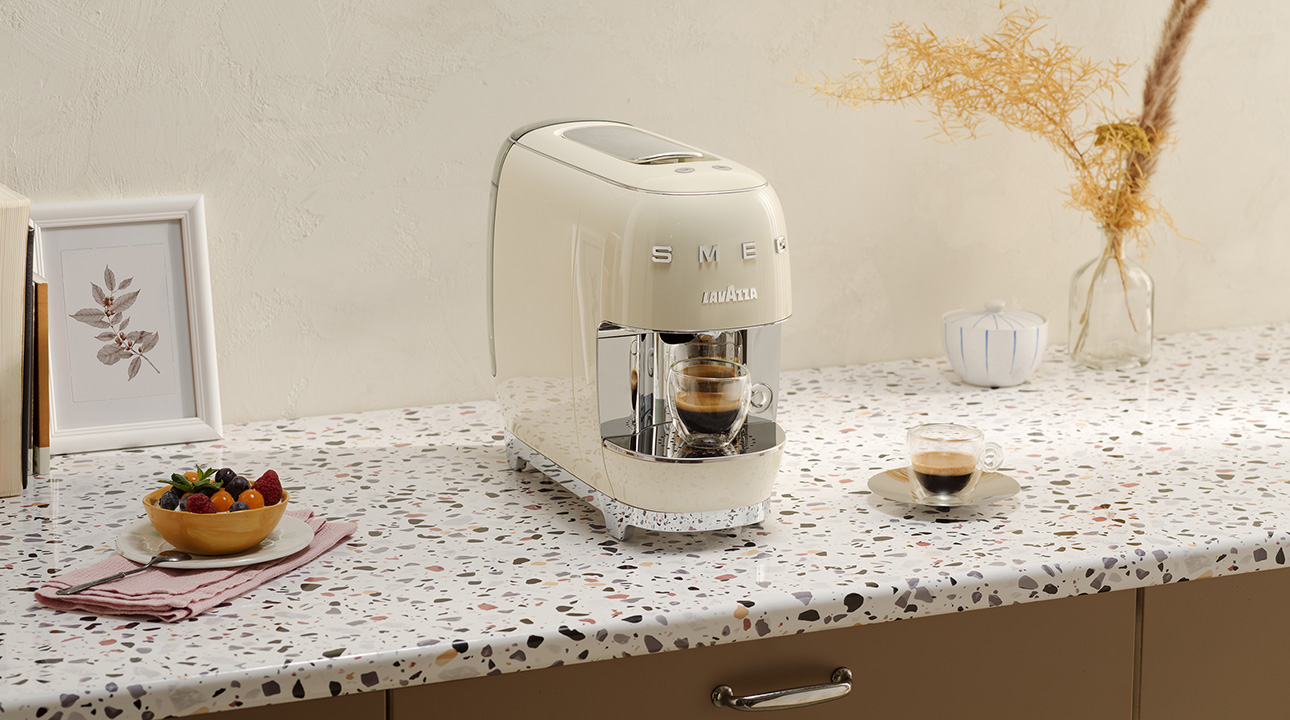 A beautiful espresso
​​Lavazza excellence and tradition are combined with Smeg design and technology to bring the unmistakable experience of real Italian Espresso coffee to your home.
Colour, design, and taste
The ECF01 is a compact manual espresso machine with an iconic design that brings the pleasure of the Italian bar experience into the comfort of your own home.
Style at the touch of a button
With BCC02, the coffee machine that comes equipped with a steam wand, your kitchen becomes the ideal location to brew and savour a wide variety of beverages at the touch of a button, and it is extremely easy to use.