Presented during the Fuorisalone in Milan inside the House of Coffee in the Smeg store in via Moscova, ECF02 is Smeg's "Made in Italy" manual espresso coffee machine, created to guarantee the best result for an authentic Italian espresso.
ECF02 was born, like many other small Smeg appliances, from the collaboration between the brand and the deepdesign® studio of Matteo Bazzicalupo and Raffaella Mangiarotti.
The project, like many others, presents itself as a real challenge: renewing the design of the coffee machine previously in the range, maintaining the principles of compactness and ease of use, but aiming to make it in Italy.
Each idea arises from a shared brief: the meeting point between the company's desires and the interpretation that the designers give of the brand and its values.
After the brief, the designers carry out formal research to intercept aesthetic and functional ideas, on which the first concept is developed. Then, through a close comparison with the technical and product area, we arrive at the creation of an aesthetic sample: this is a non-functional creation of a full-scale model of the coffee machine for illustrative purposes.
When the product design is in the consolidated phase, the production line design process begins. In the case of ECF02, company areas were involved simultaneously, to comply with the quality requirements that the product requires: design, industrialisation, production, IT, and quality, with the support of the Department of Technique and Management of Industrial Systems of the University of Padua and the Department of Industrial Engineering of the University of Bologna.
The ECF02, which combines the excellence of coffee, design and "Made in Italy" in a single object, is produced in the Bonferraro factory, in the province of Verona. A space of 100,000 m2 is used to produce household appliances. The ECF02 assembly line was installed in the most historic part of the Bonferraro factory, which was born in 1964 as a stove company and today is part of the Smeg group.
The result is the manual espresso coffee machine made in Italy, simple to use, which allows us to enjoy café-quality coffee in the comfort of our home, and to furnish the kitchen with an object of unmistakable design.
For all these reasons the ECF02 won the international Good Design Award competition.
"The award is proof that all the design energy we put into it was liked and appreciated."
Raffaella Mangiarotti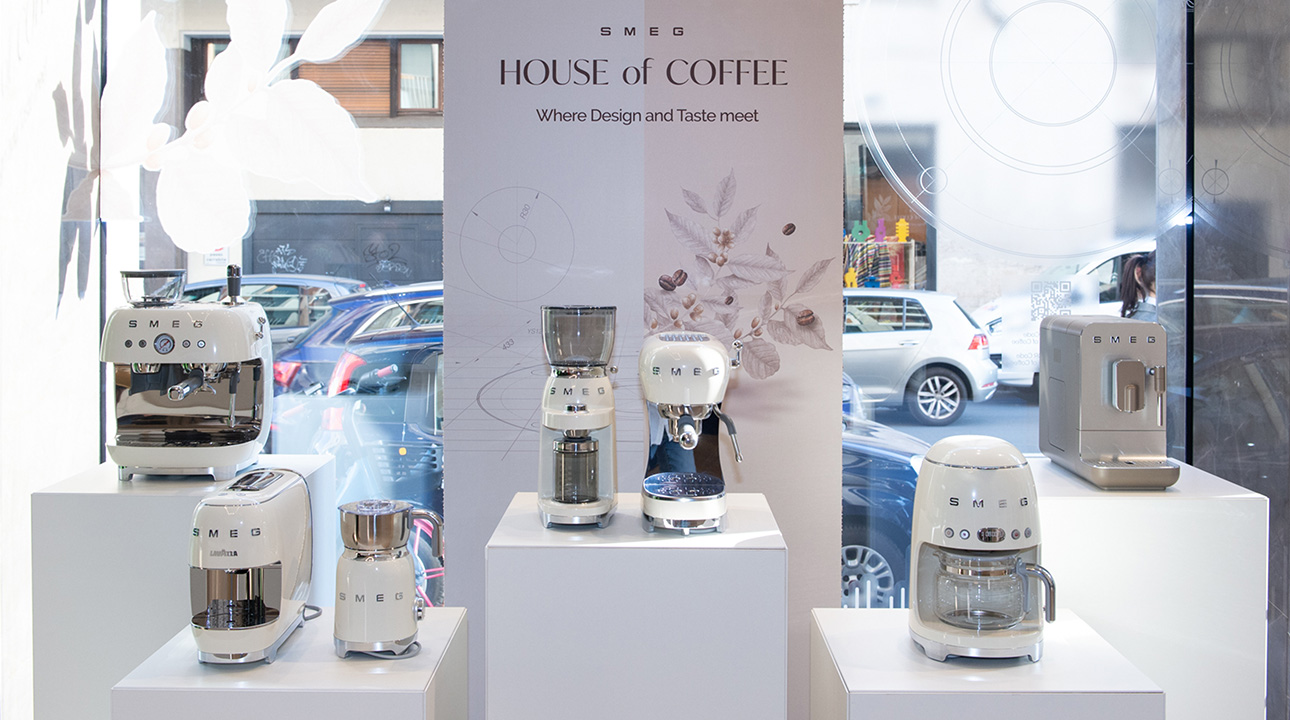 The ECF02 manual espresso coffee machine winner of the Good Design Award
ECF02 is the manual espresso coffee machine made in Italy that guarantees the best results for an excellent espresso coffee.